In the realm of modern living, townhouses have gained immense popularity as an attractive housing option that combines the perks of urban living with the spaciousness of a multi-level dwelling. Among these, three-level townhouses stand out as unique gems, offering an exceptional blend of comfort, style, and practicality. This post delves into the myriad benefits of living in a three-level townhouse, shedding light on why this housing choice has become a sought-after haven for individuals and families alike.
Expansive Space Utilisation
One of the most alluring aspects of three-level townhouses is their exceptional space utilisation. Spread across three levels, these homes allow for creative interior design that maximises both functionality and aesthetics. With distinct spaces for living, sleeping, and recreation, residents can enjoy a clear separation of activities, enhancing the overall living experience.
The Raeburn Townhouse available for sale at our Printers Place development offers on the ground level hosts the common areas, such as the open plan kitchen/dining area with bifold doors opening out onto the rear garden creating an open and inviting space for family gatherings and socialising. Ascending to the first level, you will find the spacious living room private zones like a double bedroom/home office and family bathroom. Finally, the second level offers a principle bedroom with ensuite, 3 double bedrooms catering to various interests such as sleeping quarters or home gym, media room, or an additional guest suite.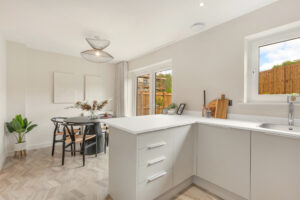 Natural Light and Ventilation
Three-level townhouses typically boast multiple windows on different sides, ensuring a generous inflow of natural light and excellent ventilation throughout the day. This not only reduces the need for artificial lighting but also imparts a sense of airiness that can greatly uplift one's mood. The interplay of light and shadows creates a dynamic living environment, making these townhouses a delightful place to reside.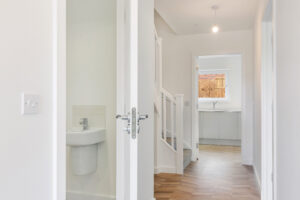 Privacy and Quiet Retreats
Unlike apartments and standard house types, townhouses often have fewer shared walls, which translates to enhanced privacy and reduced noise disturbance. Each level can become a distinct haven, offering residents a sense of solitude even in the midst of a bustling urban neighborhood. This aspect is especially appealing to those who value their personal space and seek a serene retreat after a long day.
Vertical Gardens and Outdoor Spaces
Three-level townhouses often come with the luxury of outdoor spaces. While you might not have a sprawling garden, you can easily transform the outdoor areas into lush vertical gardens or cozy outdoor lounges. These small green pockets not only add a touch of nature but also offer a relaxing setting for morning coffees, evening conversations, or simply unwinding amidst the soothing embrace of nature.
Multigenerational Living and Flexibility
The layout of three-level townhouses lends itself well to multigenerational living arrangements. With separate floors, families can comfortably accommodate elderly parents or adult children while maintaining individual spaces. This flexibility ensures that everyone has their own privacy while still being under the same roof, fostering a strong sense of togetherness.
Conclusion
Living in a three-level townhouse is an experience that seamlessly merges the advantages of ample space, design versatility, privacy, and outdoor living. The distinct zones within these homes cater to various aspects of modern life, making them a perfect choice for families, working professionals, and anyone who appreciates the harmony of style and substance. With their unique blend of functionality and aesthetic appeal, three-level townhouses redefine urban living, offering a haven where comfort and space intertwine effortlessly.